Google Analytics is a free tool from Google that tracks website traffic information. The main job of Google Analytics is to generate some of the information such as, how visitor visits your website, which keyword using to visit your site, what they are looking for from your website etc. Also apart from those who are visiting your website, the number of male and female, the visitor from which country, which browser are using, which device is using to visit your website etc. Google Analytics was launched in November 2005 and it is currently the world's most popular Web Analytics tool.
Why use Google Analytics?
After creating the website, the biggest success is to get more visitors and subscribers on the website. By using Google Analytics you will find some information that you can get good visitors to your website through research. For example,
Who visited your website?
Visitors' geographical location is where they are visiting websites using any kind of browser, you can also learn about different types of information such as visitor's screen resolution, JavaScript support, Flash support, language, etc. through Google Analytics. And these information plays a valid role for your website. If you want, you can categorize your website based on these data. This will increase the number of your visitors.
How much time visitors spend on your website?
How much time spent visitors on your website and what is their Bounce Rate. And based on this information, you can reduce the Bounce rate of the website and increase the page views. What time visitors visit your site and which keyword using for visiting your site, you can get all the information easily from Google Analytics.
How did the visitor find your website?
Your visitor has visited your website from any source, such as Search Engine, Direct Links, Referral Links, and Social Media etc. Which of these sources is the highest? Also what amount of visitor you have received from a Search Engine (Google, Yahoo, and Bing).
Visitor feedback on the website
A website will be ranked immediately when Visitor's clicking on the various articles or posts published on the website. By analyzing this information, you can understand what's the type of content expect your visitor from your site. And according to the content publishing, you can get good visitors.
How does Google Analytics work?
To work in Google Analytics, you must sign up for Google Analytics. And to sign up for Google Analytics, you'll need a Google account. After signing up for Google Analytics, you will get a JavaScript Code called Tracking Code. And you have to place this code to your website backend. And through this tracking code, Google Analytics tracks your website and creates a separate report about all types of information.
How to add Google Analytics to your website?
To sign up for Google Analytics, first, you need to visit the link below.
https://marketingplatform.google.com/about/analytics/
After visiting here you will see a page like this below.
Click here to "Start for free" button. After clicking this button you will get Google Analytics signup page.
Click here to sign up. After clicking on the sign-up button, you will be automatically signed if you have logged into a Google account. If you do not have a Google Account, you need to login to an account. After clicking on Signup with Google Account, you will see a page like the following.
If you want to add Google Analytics to your website, select Website here. Enter your Google Analytics account's name in the Account Name. Enter your website's name in Website Name. Enter your web address in the Website URL. Then select your website category in the Industry Category, if you can't find your category here, then select other.
Select the Time Zone here. Click the Get Tracking ID button below. After clicking on Tracking ID, you need to sign in to Terms and Condition.
After clicking on the "I Accept" button here you will get a page like this, where you will find the tracking code of Google Analytics.
Here's a JavaScript code, you have to copy it and place it into the </head> tag section of your website. I'm showing you with a WordPress site, how to add it to your site. To do this, you first need to login to the admin panel of your WordPress site.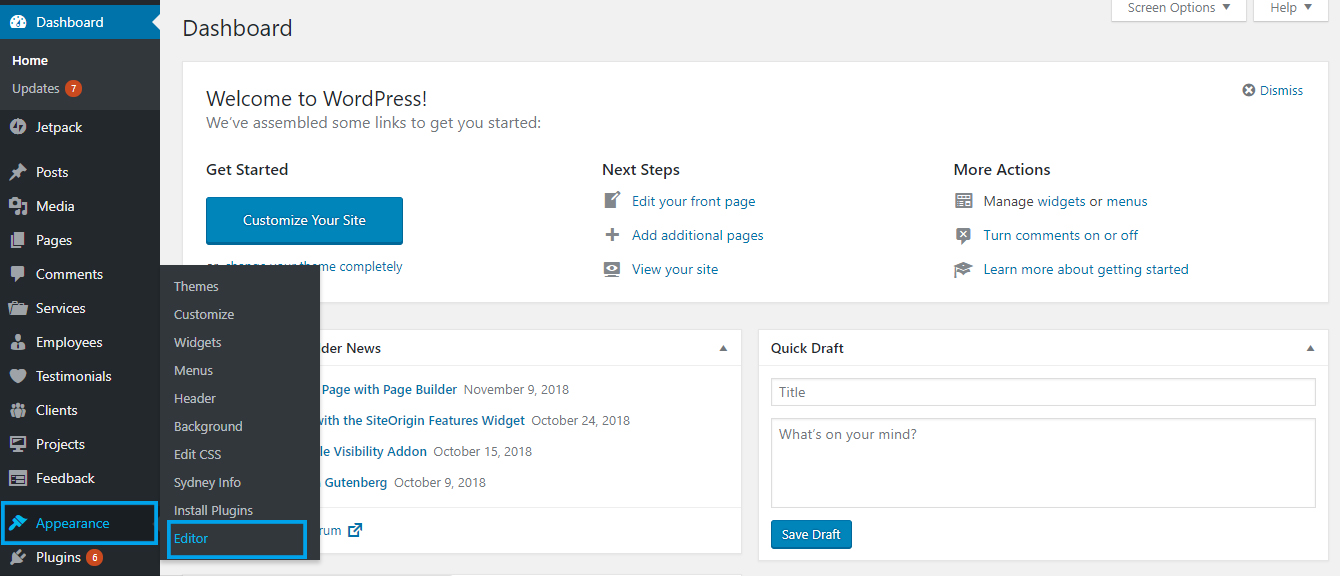 After logging in to WordPress, you have to go to the Appearance section, from there to the Editor section.
Here you have to find the Theme Header file and place the JavaScript code from Google Analytics before the </head> tag. Then you need to click on "Update File" button to save the file. After the file has been updated, you are done. Now you can test it in 2 ways that Google Analytics is working properly on your website.
Google Analytics
Go to the Google Analytics webpage. Now click on Overview and click on Real-Time from the overview section.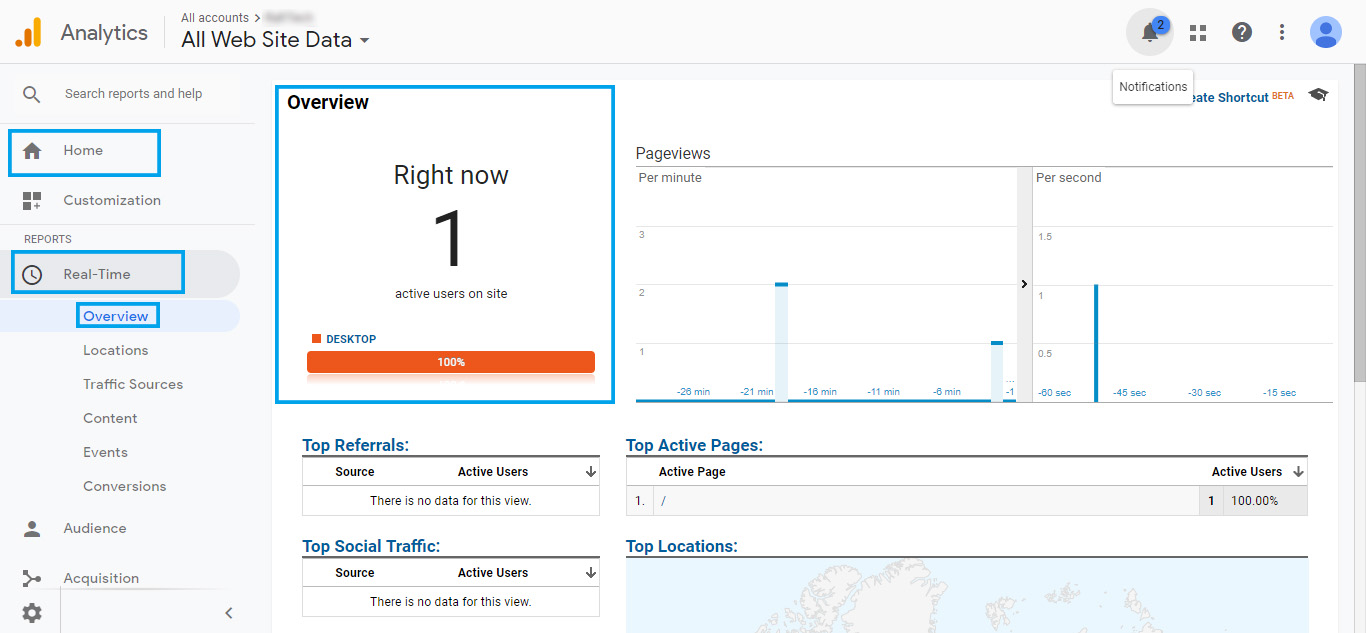 If there is any number here, you understand that your website is connected to Google Analytics.
Google Tag Manager
If you do not have Google Tag Manager installed on your browser, then please install it from the following link.
https://chrome.google.com/webstore/detail/tag-assistant-by-google/kejbdjndbnbjgmefkgdddjlbokphdefk/related
Now visit the site that you have installed your Google Analytics tracking code and click on Google Tag Manager from the browser extension menu.
From here click the Enable button and reload your website.
If Google Analytics works properly on your website, you will see the result in the Tag Manager.
There are a number of functions in Google Analytics that are important for ranking your website, also how to connect to Google Analytics with Search Console or Webmaster Tools, we will discuss this in another part.