Search Engine Optimization (SEO) helps make your website higher on Google and other search engines. WordPress provides SEO friendly plugins to WordPress, but there are still many things you can do to improve your SEO such as adding Meta tags, creating XML sitemaps, avoiding duplicate content, etc.
In this article, we will learn about the best 5 SEO plugins for WordPress. Before the discussion, I would like to have a brief discussion about SEO.
Actually, what is SEO?
Search Engine Optimization (SEO) has two meaningful parts. One is the Search Engine and the other is Optimization. This means SEO is a type of technical process for optimizing a search engine. Search engine optimization works for bringing a blog or website in a better position in search results.
If you want to know more about SEO and search engine, you can read this article.
What is Webmaster Tools, How to use it?
Which WordPress plugins for SEO do you use to rank your site?
When you are working with a self-hosted WordPress site, the Yoast SEO plugin is one of the most valuable tools for you. Yoast SEO is one of the most widely popular WordPress plugins and why it is easy to use. Yoast is a powerful tool that lets you make your site as search engine-friendly as you are running a personal blog or an SEO professional who is managing a website for a client.
Yoast SEO can be installed on any self-hosted WordPress site. It's easily the most comprehensive SEO-related WordPress plugin that you can expect and the best, it's free! You have the option to buy premium Yoast SEO extensions for some extra functionality, but its most important functions are free plugins part. Yoast makes it easy for you to do things like control title and Meta descriptions, set your targeted keywords, and track how often you're using it, manage sitemaps, and more.
From your site's admin dashboard, look for the "Plugin" option on the left side of the screen. When you click on it, you will see the "Add new" option. Click on "Add New" and you will be taken to a page with a selection of featured, popular, recommended and preferred plugins. If you do not see any listed Yoast SEO in this section, there is a search box that you can use to find it. After installing it, you have to configure it with some information.
Best Features of Yoast SEO
Allows you to create simple navigation for users and great for internal linking.
Meta Tag and Title Tag optimization
Multi-site compatibility
Site SEO Analysis
Snippet Preview
Social Integration
Great for blogging with a simple green and red light interface.
It is the top free SEO plugin in the market. One of the most widely used SEO tools.
With over 3 million active installs to date and a 4.5/5 rating from 500+ reviews, the "All in One SEO Pack" is easy to use for beginners. "All in One SEO Pack" is a free and divided into a premium version. It should be very nice for most webmasters, but it can be appreciated by webmasters pro version with specific versions (such as video SEO).
Features of All in One SEO Pack
Custom titles/meta for posts, pages.
Sitemaps
Built-in API for other themes/plugins to extend "All in One SEO Pack".
txt Editor
Woocommerce support
Premium SEO Pack
By name, "Premium SEO Pack" is a plugin that provides a healthy set of tools. It provides a way to increase the SEO value of all WordPress pages and to control the appearance of search engine results pages on a site.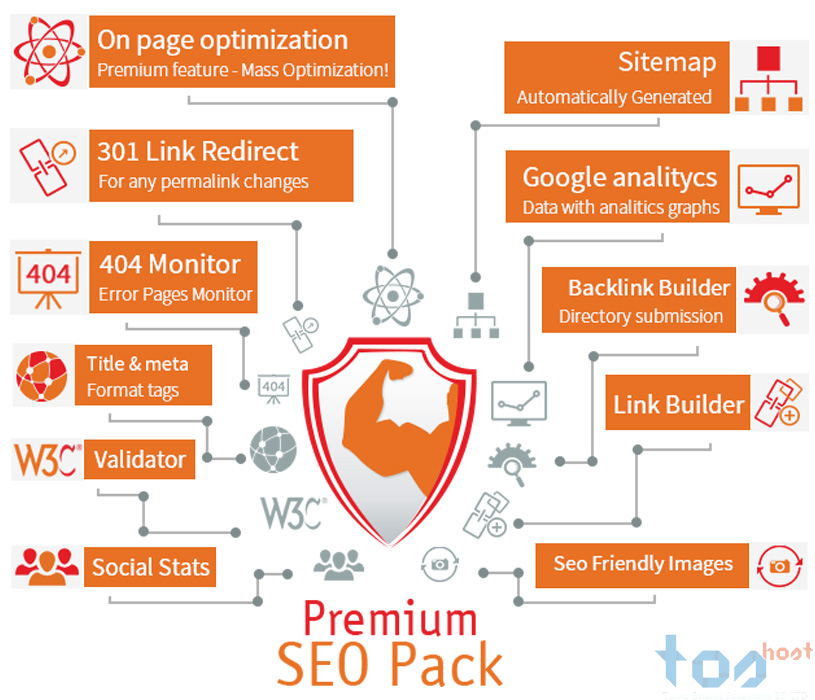 Features of Premium SEO Pack
Facebook Planner: You can post your content on Facebook using this feature.
Monitors the URLs that are referring your visitors to 404 pages.
Page Speed Test
Automatically refreshes all images with relevant ALT tags and title attributes.
Backlink Builder
Pattern SEO
SEO by Squirrly
Squirrly is a plugin, which promises to optimize SEO for your WordPress articles. It constantly checks your articles for keywords and how they are used and responds to your SEO. They claim that the articles optimized with Squirrly may get + 285% more traffic to generate than non-automated articles. SEO Squirrly is definitely designed for non-experts. This plugin for WordPress will help you write that content effective in ranking your website. This will help you write "human-friendly" content.
Features of Squirrly
Green light means "good work!" When you implement an item correctly, the display becomes green.
Suggest headlines based on your primary keywords.
Tracking content strategies
Automatic overwrite detection
Improved artificial intelligence helps you to develop high-quality content.
WP Meta SEO
This plugin has a great toolbox to save time on SEO and bulk editing tasks. The main functionality of this plugin is to edit the metadata of the website in a single view. The effects of change are changed by live SEO analysis for real-time feedback. The paid version adds Google integration and various auto-monitoring tools for website errors.
Features of WP Meta SEO
Make site-wide changes to metadata with posts, pages, custom post types, image information and size, and SEO links.
Broken Link Checker
Create and update XML and HTML Sitemap
Create and control the display of rich snippet.
In Today's part, we learned about the best 5 SEO plugin for WordPress site. In the next part, we will discuss how to install and configure those plugins.