What is framework?
A framework is a platform for developing software applications. It provides a foundation which software developers can build programs for a specific platform.
What is PHP framework?
PHP framework is a basic platform that used to build and develop all types of web applications.
Which are the best PHP framework?
Let's know about the best 5 PHP frameworks.
Laravel
Laravel is a free and open source PHP Web Framework.
Laravel first market arrived in June 2011. Laravel has a lot of popularity in 2017 for its speed, extension power, and fast processing. It's made for web application development and MVC pattern used for it. Have some special toolbox for the fix any error to coding.
Special Features:
ORM
a painless routing system
restful controllers
class autoloading
powerful queue library
simple authentication
There are also a beautiful syntax that makes web application development easier. Laravel reuse components work to develop web applications in a more structured.
CodeIgniter
CodeIgniter is an open source software that allows building any website with PHP very fast and it can be developed.
CodeIgniter established by the "EllisLab" Software Company. February 28, 2006. Its first release in the market for use as open source software. "British Columbia Institute of Technology" completes its development work. The programmer can create dynamic and custom web applications through the use of advanced technology. CodeIgniter has a built-in library for unit testing, form validation, email, sessions, full page caching, etc.
Symfony
Symphony is the PHP web application framework that consists of many reusable PHP components and libraries.
Symphony was released on February 22, 2005, by Fabien Potencier, the first PHP web application framework in the market. It's developed by Symfony contributors and SensioLabs. Symfony performs faster tasks for web applications and maintenance. And replaces the repetitive coding function. In addition to creating powerful Web applications, its control on the configuration for the developer to complete easily her web application. Symfony's main advantage, it is a multiple supported web application framework. It is made of PHP libraries that work for forms creation, objects, and templates configuration.
Yii
Yii is an open source, object-oriented, component-based MVC PHP web application framework.
Yii allows all types web applications with build with PHP. It is composed of a component and support architecture that is suitable for CMS, e-commerce projects, restful web services. It innovates by "Qiang Xue" on January 01, 2008.
Yii is a complete stack framework, which uses the MVC pattern to query builders, multi-tier caching support, and active record for both NoSQL and relational databases, Restful API development support.
Phalcon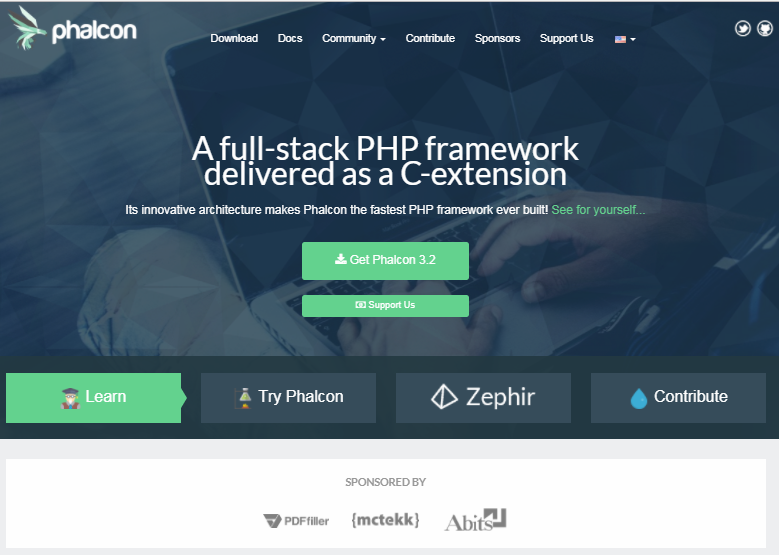 Phalcon is a high-performance PHP web framework based on the Model-View-Controller Pattern.
November 14, 2012, Phalcon initially release on market. This is an MVC pattern with high-performance power framework that is implemented as the web server's extension when writing C and Zephir. Phalcon discovered of a large security system, multi-purpose autoloader, resource management, translation caching.
At last when you think to build a web application, then PHP framework is a very easy way for you.