What is Freelancing?
Every day in the world of information technology, new updates are coming up and we are using these updated technologies to make our work easy and beautiful. Everything is becoming technical with this technological advancement. So if we want any job, we can't move away from technology.
Many of us have lost ourselves and lost our career because of failing to cope up with this technological advancement. It is seen, that the majority of us is lagging behind in different directions only because of our inability to use the technology properly. We may have high educational qualifications, but we are frustrated with our career. This is how the number of educated unemployed people is increased. A new updated technology to overcome this unemployment can be Freelancing. Freelancing was first started in 1998. A marketplace was opened online, from that point of time freelancing started.
Freelancing Career
Freelancing is no longer a new word. Many of us know about it. Freelancing is an independent proposition. Because people in many countries of the world are working at home and people are making income through online banking.
It has been found that a freelancer's average income is more than an office employee. A small example is that those who are employed in the office have a monthly salary and after getting the whole month they get the desired salary. On the other hand, those who are engaged in freelancing profession, they earn about every hour. Because their work is to be done in hours or days.
Freelancing & Outsourcing
Freelancing is a part of outsourcing. If someone is able to work while sitting at home, that is the outsourcing. However, it cannot be called outsourcing when working only at home.
It may also be that there is no direct contact with the person you are working with or s/he is working in a foreign country, and you are sitting here and doing the work, s/he is giving money you for doing his work. In this case, you can work from home or office and this is the outsourcing. On the other hand, freelancing means that you are working independently. For example, a freelance photographer earns through taking photographs. Someone asked him to take pictures of a program. Now whether he will do it or not, depends only on his will. No one is able to force him here because he is not a contractual or full-time worker. As a result, he is an independent person. The ability to do this independent work is freelancing.
Popular Freelancing Platform
Some of the top platforms for freelancing are oDesk, Freelancer, Fiverr, Guru and People Per Hour. Currently, the most popular freelancing platform in World is oDesk and Fiverr.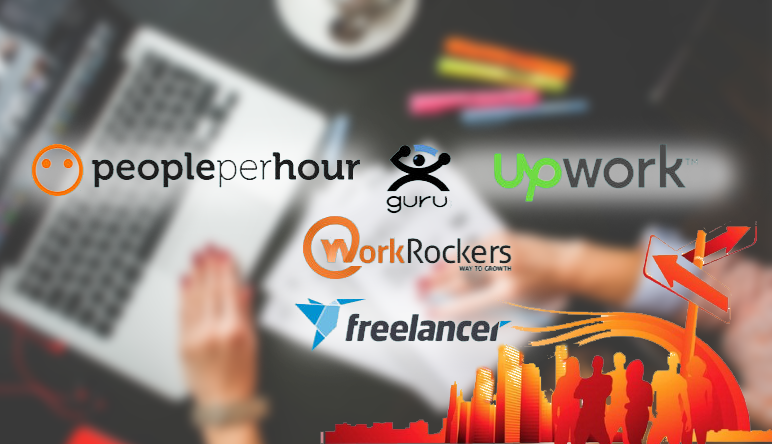 There are some things that are very popular in the freelancing market, such as Web Design & Development, Graphics Design, Data Entry, Digital Marketing, and SEO & Affiliate Marketing.
Dream about Freelancing
There are thousands of such people among us, who have many dreams about freelancing and want to build a good career/future with freelancing. Today we will know about web design and freelancing Career. If you want to build a good career with Web Design & Development or want to do well in the freelancing market, then go down today. And ask yourself how much you are prepared to do.
What You Should Have To Know Before Starting Freelancing with Web Design
You must know what to do in order to create a freelancing career with Web Design & Development. Let's know before, the difference between Web Design and Development.
Difference between Web Design & Web Development
If you want to create a website, you have to take two steps, one is web design, and another is web development. This means that in order to create a complete website, two important steps are to design web design and web development. Web Design is basically the first step in building a website and the development is the last step. Web design is also called the front-end of the website. The web page that we visit the website, it's the part of web design or front-end. Only the development sector, developers or back-end developers can see where developers have developed the functional parts of the website.
Well, for example, we can think of Google as we enter google.com, along with the search bar we can see that the page is part of web design. And inside of us are various tools and software that are part of development.
Web Design
If you want to learn web design, you must learn HTML, CSS, Bootstrap, JavaScript, and frameworks like jQuery. Besides, you have to keep a good idea about Photoshop. As you will sometimes have to convert from PSD format to XHTML format, there is a use of Photoshop. To do something in the web development section, you must first go through the web design. If you do not go from web design to development section, just web design demand in high and these are not difficult to dominate. Just you have to spend the right time behind these. What you have to do.
If you take 6 months, you can dominate them very well, but you must spend at least 5-6 hours a day to follow them. It may also take more time depending on your merit.
Suppose you are doing the course above from an organization, then contact your trainee if there is a problem with you. And Google YouTube is always with you.
While designing, you need to keep in mind the browser, so that your design looks similar to all types of browsers.
You have to think about something creative. Your design is creative compared to everyone's design.
Also, keep in mind the desktop pages and mobile pages. A similar layout can be seen in the desktop or mobile version.
Why do you start a career with web design?
One of the reasons for starting a career with web design is its market demand. It is relatively easy to do than other jobs, and because of its huge demand in the market, there are many opportunities to work after learning. If you want to learn web design you can start learning. However, if you have great preparation for it, you can start your work.
Think once, what are the websites that we are browsing every day for our work? These are created by ordinary people like us, who are experts in web design and development. The biggest thing is that the amount of website that needs to be created on different editions of the day, the web developers and web designers are not created the same quantity. The demand of web designers and developers around the market is increasing every day. According to Glassdoor Inc., the average salary for a Web Designer Is $71,427-93,000 on the US. Also, a Front-End Developer average salary is $112,000.
Lastly, I want to say, the web platform is one of the biggest platforms. It has the start but does not the end. So have many work possibilities in here.