cPanel
The cPanel is a very popular web-based control panel. A website has full control over the cPanel. The main tool of website development is the cPanel. cPanel is a software used to handle web hosting.
Through this Unix-based software, a Web server can be managed in the most simple and beautiful way. Without a direct text command, the C-panel works much easier. Various types of API based approvals can be set by which the hosting provider can determine the level of usage of various web server resources (hard disk space, bandwidth, domain number, sub-domain, mail account etc.).
Including Linux, Apache, PHP, MySQL, Perl, etc. associated with the kind of service the cPanel is a quite convenient Web software. Many types of add-ons are added to the cPanel, making it rich day by day.
The cPanel is usually of 3 types.
Root and Reseller Admin Panel
Reseller Domain Panel
Domain Owner Panel
Root and Reseller Admin Panel
The "Root and Reseller Admin Panel" is the server's admin C panel, which acts as the main source. There is a various number of sites in one host, all account details, server information, and server configuration, how many C-panels are there, all information stored in here. It is basically beyond the reach of ordinary people.
Reseller Domain Panel
Normal users buy hosting from them. Then they can share cPanels with common users. This C-panel has several additional options, which are not in the normal cPanel.
Domain Owner Panel
This is for common clients. If you purchase a hosting from a hosting company, you will get a C-panel. Especially when buying a shared hosting, the host provider provides an account and password to the client.
The C-panel has many tools, some of which contain a number of tools. Let's see the tools.
Files
File Manager
Image
Directory Privacy
Disk Usage
Web Disk
FTP Account
FTP Connections
Backup
File Restoration
Backup Wizard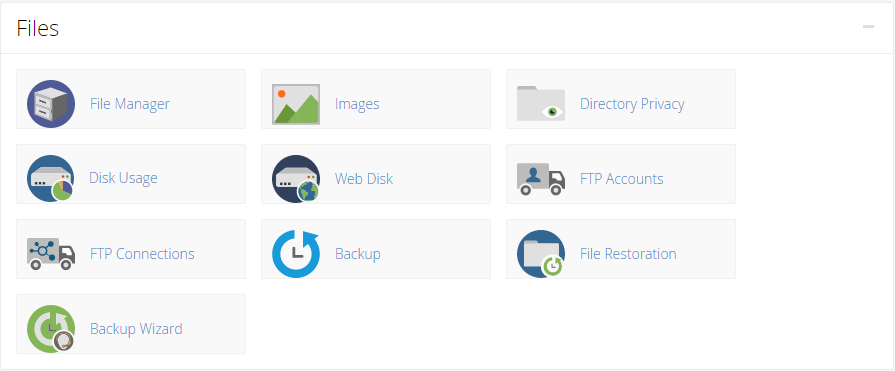 Databases
php MyAdmin
MySQL Databases
MySQL Databases Wizard
Remote MySQL

Domains
Site Publisher
Addon Domains
Subdomains
Aliases
Redirects
Simple Zone Editor
Advance Zone Editor
Zone Editor
Email
Email Accounts
Forwarders
Email Routing
Auto Responders
Default Address
Mailing List
Track Delivery
Global Email Filters
Email Filters
Authentication
Address Importer
Apache Spam Assassin
Encryption
Calendars and Contacts
Email Disk Usage
Restore Manager
Restore Files
Restore Database
Restore Cron jobs
Restore SSL Certificate
Restore Mail
Restore Mail Forwarders
Restore DNS Zone
Restore Domain Aliases
Restore Full Account
Backup Exclude
Security
SSH Access
IP Blocker
SSL/TLS
Hotlink Protection
Leech Protection
SSL/TLS Wizard
Mod Security
SSL/TLS Status
Let's Encrypt
Advanced
Cron Jobs
Track DNS
Indexes
Error Pages
Apache Handlers
MIME Types
Virus Scanner
Preferences
Password & Security
Change Language
Change Style
Contact Information
User Manager
Software
Cloudflare
PHP Pear Packages
Peri Modules
Site Software
Optimize Website
Multi PHP Manager
Multi PHP INI Editor
Softaculous Apps Installer
Select PHP Version
Application
We provide a multi-language, user-friendly control panel (cPanel) with all of our hosting plans. If you want to see our pricing plans, you can visit our hosting panel and if you want to buy a cPanel, click here or you can contact us.
In the next part, we will discuss each of the tools in the cPanel. To get the next part of cPanel, please stay with Tos Blog.