In the previous part, we learned about the Domain Section. Today we will discuss Email Section.
If you have not seen the previous part, you can see it from here.
cPanel Guide for the beginner (cPanel Part-1)
How to Upload, Delete and Edit a file on your site through cPanel? (cPanel Part-2)
How to create a MySQL Database and connect with a user? (cPanel Part-3)
How to create a Subdomain, Aliases and add a Redirection with another domain? (cPanel Part-4)
Email Section
Email Accounts
Forwarders
Email Routing
Auto Responders
Default Address
Mailing List
Track Delivery
Global Email Filters
Email Filters
Authentication
Address Importer
Apache Spam Assassin
Encryption
Calendars and Contacts
Email Disk Usage
Email Accounts
The main functions of the Email Accounts section are to manage the mail account, creating new mail accounts, editing, deleting etc. Every website needs to have its own mail so that anyone can tell the admin quickly via email if there is any problem. Such as [email protected] or [email protected] You can also create separate mail accounts for each department of your website, such as [email protected], [email protected] and so on.
How to create a mail account from your domain?
At first, you need to log in your C-panel. From here, click on Email Accounts. You will see a page like the picture above. Enter your account name in the Email Box here. Select domain or subdomain. Enter the password in the password box. Now type the disk space or click unlimited of the mailbox and click Create Account. Your email account will be created
How to configure mail in your PC?
To configure your mail with Microsoft Outlook, you need to find Microsoft Outlook.
Now open Outlook from your application list.
Here, click on Next button.
Click Yes button on add email account section and click on Next button.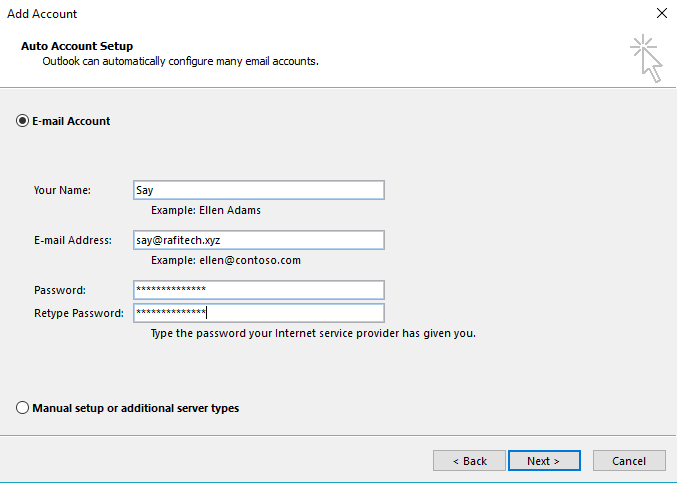 Here, you need to enter some information about your email.
Your Name (The name you used when creating an email account in cPanel)
E-mail Address (Your E-mail Address )
Password (Your E-mail Password)
Retype Password ( Your E-mail Password)
Now click on the Next button.
If you have all the information right then you see a page like this, click the Finish button from here. After clicking on the Finish button, your Mail Box will open.
Forwarders
"Forwarders" are used to forward emails from your email account to forward them to another email account. There are 2 options in here,
Add Forwarders
Add Domain Forwarders
Add Forwarders
If you want to add new forwarders, type your email id on "Address to Forward" box. Enter the email id on "Forward to Email Address" box where mail will be forwarded.
Add Domain Forwarders
Here, you need to select your domain. And on "to" you need to type your another domain that will receive your forwarded email.
Email Routing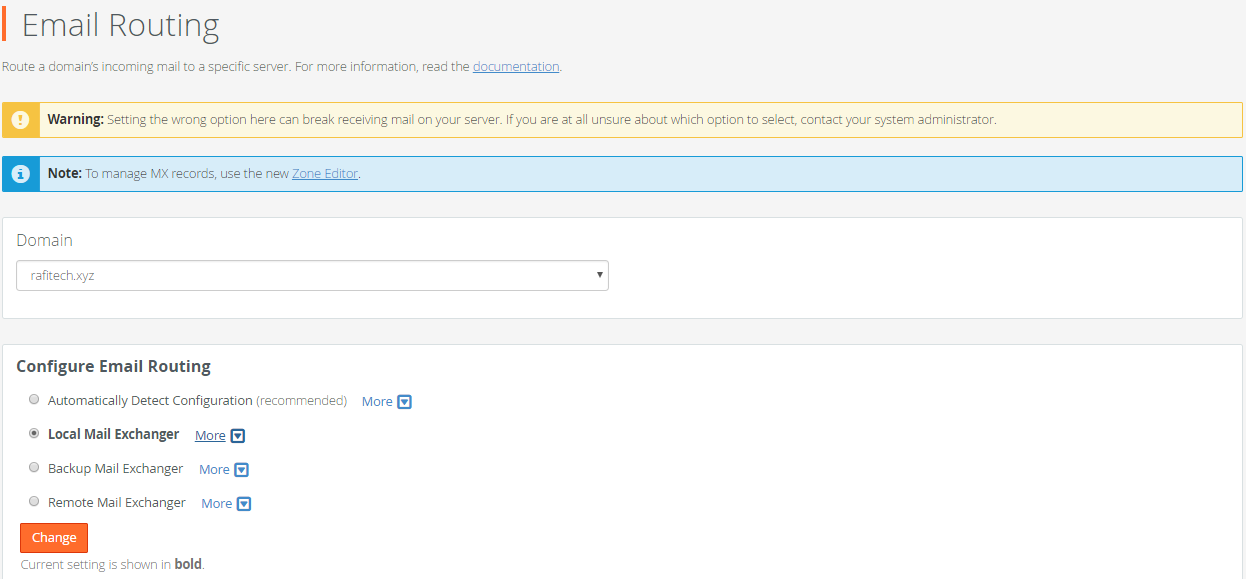 Email Routing is used to routing incoming mail to a domain on a specific server. For Email Routing, select your domain and click on Local Mail Exchanger and click the Change button.
Auto Responders
Autoresponders are used to providing an automatic reply in each email. To start Auto Responder on your mail, select your domain in Managing and click Add Autoresponders. In the next page, you have to click on the Create/Modify button with some information.
Default Address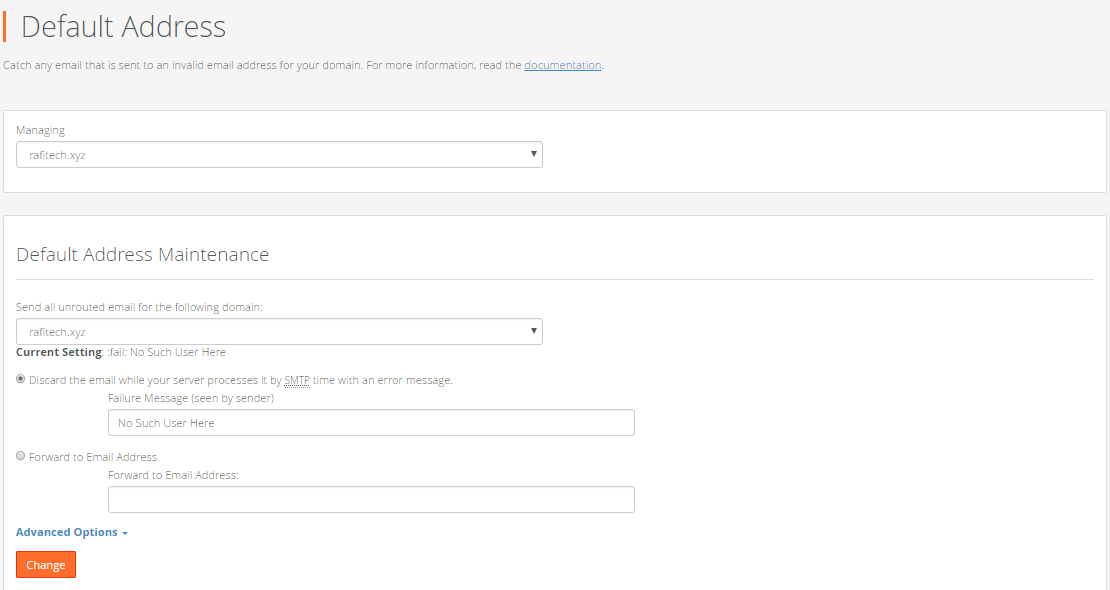 From here, if you want you can select a specific email address so that any mail can become directly to this email address.
Mailing List

It is basically used to send mail from one mail to many mail addresses at once. And for that, you have to create a mailing list.
Track Delivery
Track Delivery is used to manage mail sent from domains. By clicking on the mark (i) in the above picture, you can find all the related information of Mail Delivery.
Global Email Filter and Email Filter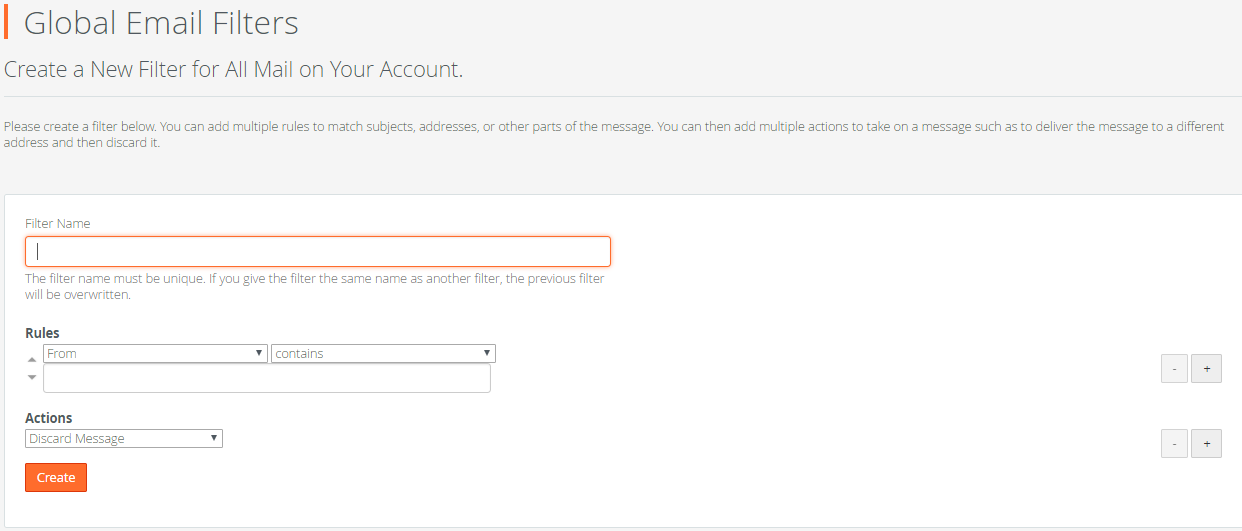 Global Email Filtering and Email Filtering are the same methods. Here you have to click on Rules and select a Rule. Then select Actions and click on create, a new filter will be created. It basically does the work of permissions in the mail accounts that you created.
Authentication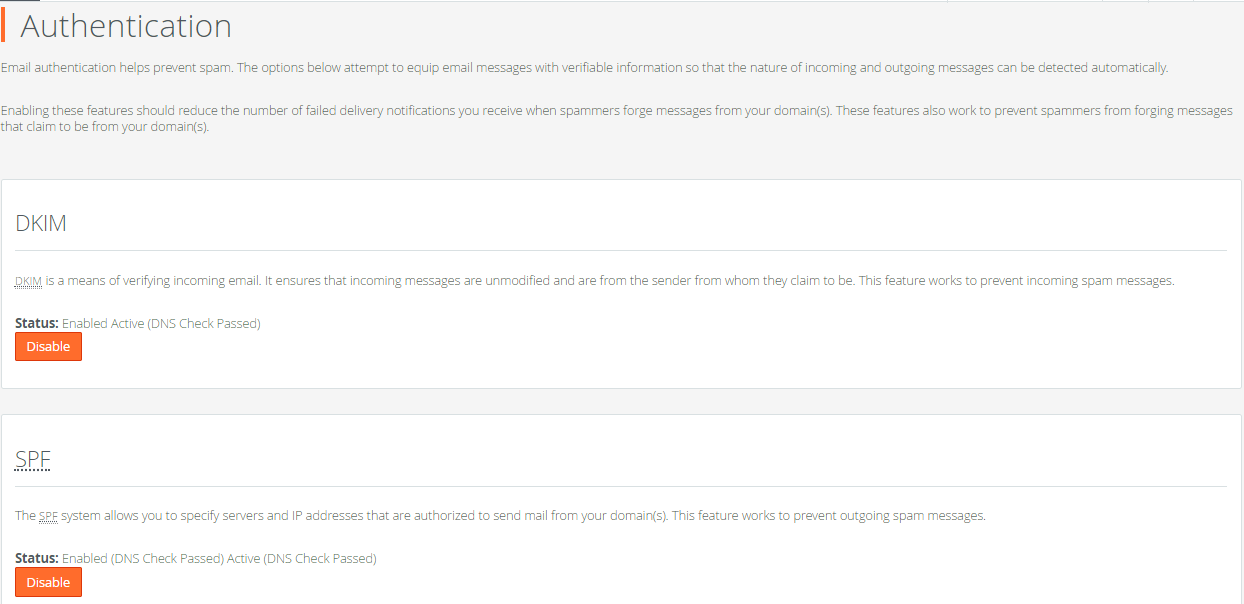 To make your mail server safe, you can use the authentication option.
Address Importer
If you want to import some email address from your computer, you can do it very easily from here. But the file format must be a CSV (.csv) or Excel (.xls) format.
Apache Spam Assassin
It's very important for auto-delete spam mail and blocking mail addresses. Just click on the Auto-Delete Spam option. Then your filtering level's spam emails will be automatically deleted.
Encryption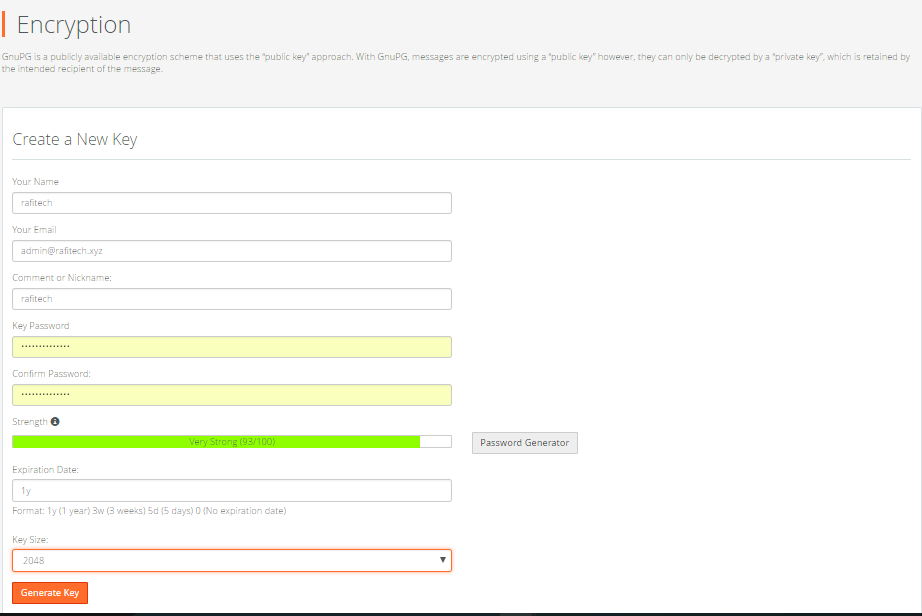 From here, you can generate a public or private encryption key for your mail server.
Calendars and Contacts
To access Calendars and Contacts on personal devices, your client must be able to configure CalDAV and CardDAV. And this feature is not fully launched yet. Only Apple users have the opportunity to use it.
Email Disk Usage

From here, you can see complete details of your mailbox.
In the next part, we will discuss the Security Section of cPanel. To get the next part of cPanel, please stay with Tos Blog.
We provide a multi-language, user-friendly control panel (cPanel) with all of our hosting plans. If you want to see our pricing plans, you can visit our hosting panel and if you want to buy a cPanel, click here or you can contact us.
To get amazing offers and new tech updates, please stay with Toshost.