In the previous articles, we try to discuss too many tech terms also we discuss some of the web tools which you need to your daily life. Today, I will try to give you and also try to discuss Gutenberg.
Gutenberg name is invented from a Germany person named Johannes Gutenberg, who is an inventor of a printing press more than 500 years ago. And now Gutenberg is a new editor of WordPress. I think we all are familiar with WordPress. Before discussing Gutenberg, I want to give you a brief description of WordPress.
WordPress is a free PHP and MySQL based open source web content management system. Basically, on May 27, 2003, for the creation of a blog website, Matt Mullenweg released this special content management system 'WordPress'. WordPress has to be downloaded from WordPress.org and installed on its own web hosting or web server. WordPress is now termed as the best web content management system in the world.
To know more about WordPress you can go our blog and read our blog posts. We have so many posts about WordPress on our blog.
Related Articles:
Gutenberg
Gutenberg is a new WordPress editor and a plugin of WordPress. Now Gutenberg is default editor of WordPress. This plugin coming with WordPress new version 5.0. It's not an editor only, Gutenberg is more than an editor. If you want to use it as a classic editor, or you want you can use it as a visual editor. Have many more powerful functions with Gutenberg. For user convenience, WordPress always try to innovate some of the great tools, with those tools users can be work properly with more easily. Many WordPress users think that Gutenberg will be more popular from others plugin for its drag and drop and its own page builders system. By WordPress visual editor, we just able to make content and use custom HTML & CSS to make content more visually.
We know that WordPress is the best CMS (Content Management System) for working with blog and website easily within a short time. And WordPress has many tools to live our site pretty without any coding. From these tools, one is the best tool is the plugin. With the plugin section, you can use any element to working with your website. Sometimes we using some of the plugins for make webpage so creative. Notable some plugins are,
Elementor
Page Builders
CMS Master
SiteOrigin
The Divi Builder
Although you can do the same with these plugins, the functionality of all the plugins is different. But in the WordPress 5.0 version you don't have to install any third party plugins for these works (Page Building, Drag and Drop, Block Create and much more).
Let's see the WordPress new editor Gutenberg best feature,
Drag & Drop Blocks- From here, you can add a single or multiple blocks to insert any type of text, button, icon and image on the webpage. It's like somewhat the plugins above.
Dynamic Options- From here, you can modify/customize any blocks or block's content. Also here you can change the color of text, size of text, the icon of text, button and content alignments.
Anchor Support- If you want, you can add custom HTML&CSS code to make content or image gallery with your own wish.
Button- Sometimes we need to add some button on our webpage, such as (Click Here, Visit Now, Order Now) etc. From here you can make some of the amazing buttons you need.
Text Columns- If you need to add many Text Columns on a single block, you can do it with Text Columns functions.
Full-Width Alignment- When you need to generate an image with full width on the page. You can be done it using this function.
Embed Options- If you wanted an easily accessible embed system, I think you are definitely got it. Because Gutenberg makes embedding media content super easy.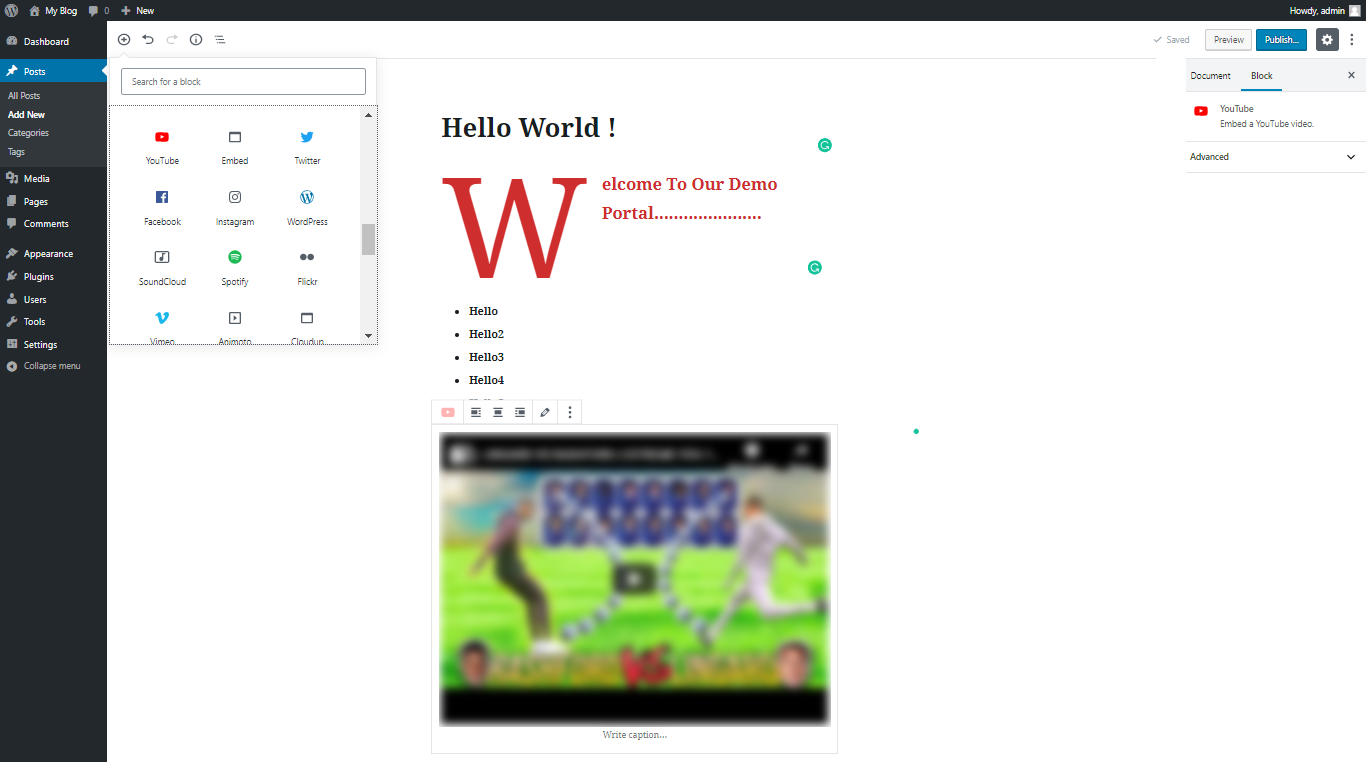 After knowing so many opportunities of Gutenberg editor, you may think you have got a big tool to customize your website more visually within a short time. If you think it exactly, you're wrong. There may be many problems with your site when this editor is installed on your CMS. Such as may change the layout of your theme, may change your existing content style and when you suffer these problems you must need to fix. To bypass this problem, WordPress developers team release a new plugin named Classic Editor. This plugin helps you to solve your problem. Classic Editor works like Visual Editor. After installing Gutenberg editor on your site and if you suffer any problem like above, you can install and activate the Classic Editor Plugin. I think you should install & activate the Classic Editor Plugin before updating your WordPress.
In this article, I just try to understand you about the Gutenberg editor with its some of the best features. Now I think, after reading this article you will get a proper idea about Gutenberg. In the next articles, I will try to show you, how to works with Gutenberg.