In the previous part, we learned about the Email Section. Today we will discuss the Security Section.
If you have not seen the previous part, you can see it from here.
cPanel Guide for the beginner (cPanel Part-1)
How to Upload, Delete and Edit a file on your site through cPanel? (cPanel Part-2)
How to create a MySQL Database and connect with a user? (cPanel Part-3)
How to create a Subdomain, Aliases and add a Redirection with another domain? (cPanel Part-4)
How to create and configure a mail account with your domain? (cPanel Part-5)
Security
SSH Access
IP Blocker
SSL/TLS
Hotlink Protection
Leech Protection
SSL/TLS Wizard
ModSecurity
SSL/TLS Status
Let's Encrypt
SSH

SSH (Secure Shell) This protocol is used to log into a remote computer shell from another computer by the network. If you are able to log in to Shell, you can run remote computer command line programs from your local computer. The main thing is that the program will run on a remote computer, but you can see the results from it on your computer.
If you want, you can enable SSH from your C-panel. For this, click on Manage SSH Keys from the top page. There are some options inside, such as if you have already collected SSH on your computer, then click Import option and upload it. Otherwise, generate a key of SSH with the new username and password.
IP Blocker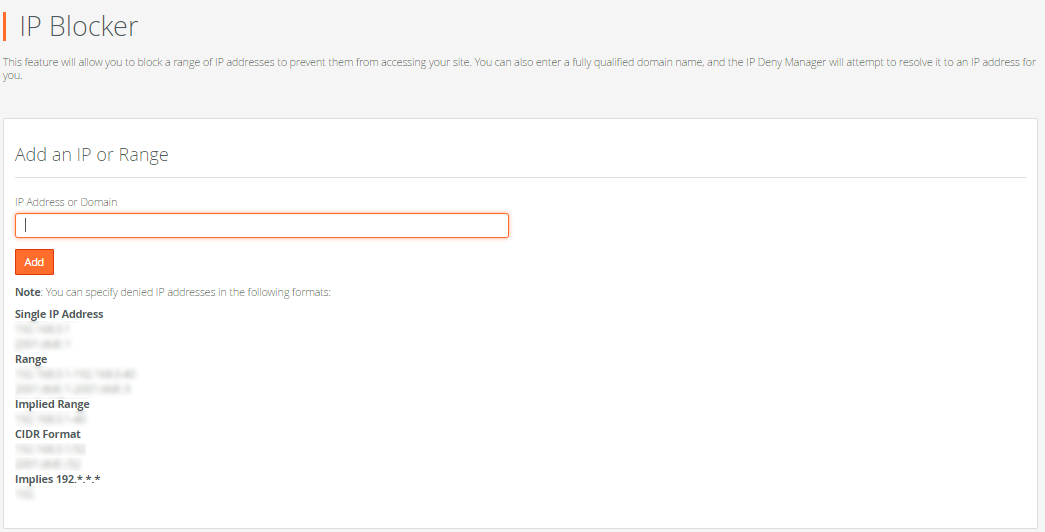 IP Blocker uses for block some unauthorized IP Addresses. As you would like, no visitor of example.com can't visit your website. In that case, example.com's IP is (192.168.0.1). Here you can type the IP on "IP address or domain" box that you want to block, and click Add button to block it.
SSL/TLS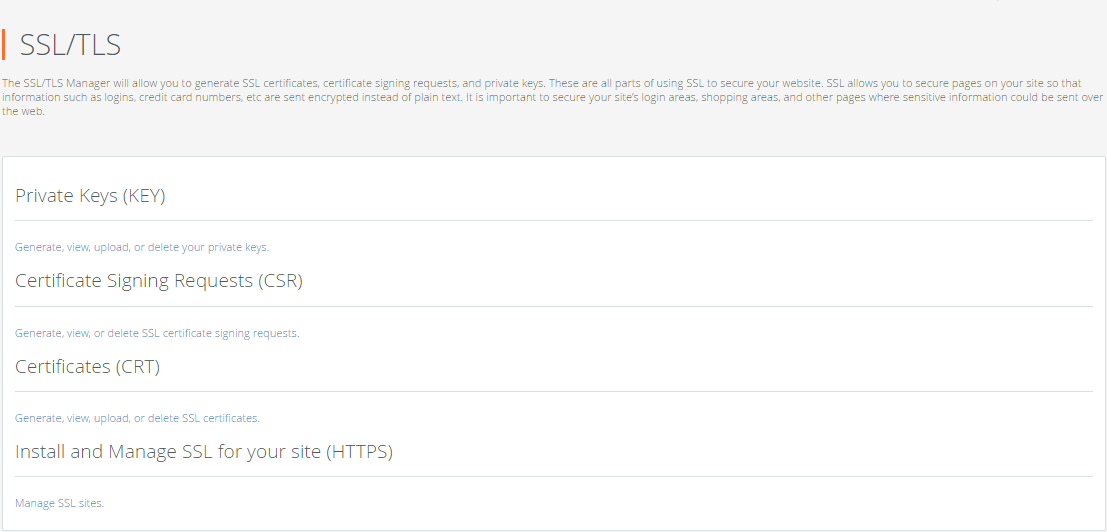 SSL is the short form of Secure Sockets Layer. SSL is basically developed by Netscape. SSL is created to deliver private documents through the Internet. It is popular in all types of browsers, and also very popular to keep personal information such as credit card information, email, passwords etc. on the Internet.
Through SSL, an encrypted connection is created mainly on the web server and web browser. As a result, if you are connected to a web browser and no third person can steal your information.
TLS (Transport Layer Security) and SSL do the same thing. With SSL / TLS function you can manage your domain's SSL. From here, you can install, delete or modify SSL as per your requirements.
Hotlink Protection
Hotlink Protection prevents other websites from directly linking to files and pictures on your website. Through Hotlink, an image of your website, another website usage it via HTML code at their webpage. And thus their website uses your Bandwidth.
To enable Hotlink Protection, login to your C-panel. Then click Hotlink Protection from security. Now click on Hotlink Protection Enable and mark on "Allow Direct Request" like the image above. Then click on Submit Button to finish your work.
Leech Protection
File directories can be protected with Leech Protection. And how many times a user can access this directory within a specific time, it can be determined.
Home Directory (/home/user)
WebRoot (/public_html/www)
Public FTP Root (/public_ftp)
Document Root (/public_html)
As you would like to "Enable" Leech Protection in these directories. From Leech Protection, select your specific folder.
Now enter your number of logins, that the user how many time can access this directory within 2 hours. Mark Email Alert and Disable Compromised Account and then click on Enable button.
SSL/TLS Wizard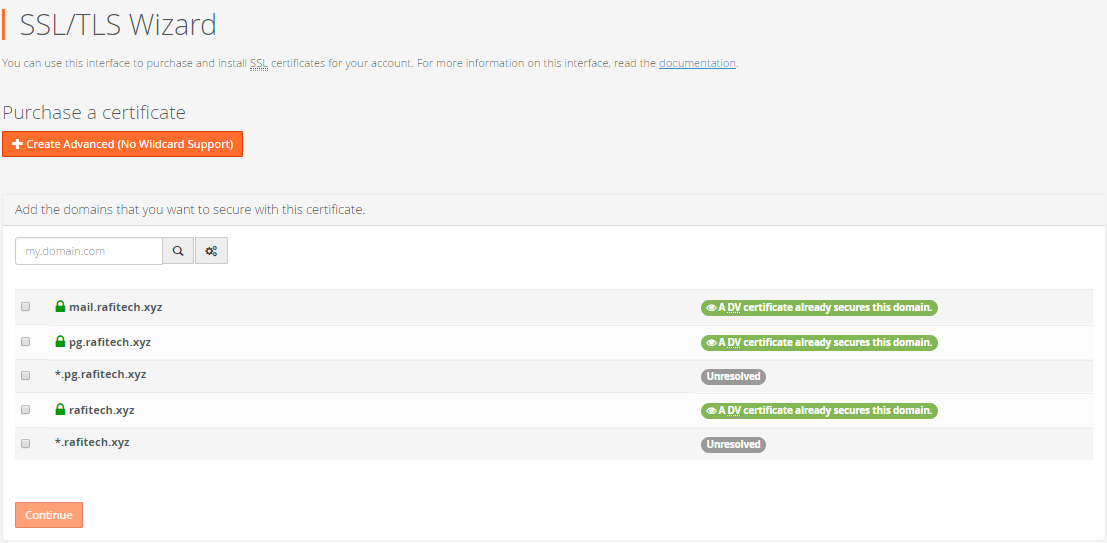 The SSL/TLS Wizard is basically like the SSL / TLS function. It allows you to add SSL to your domain according to some step. And you can install SSL on your domain as you need.
ModSecurity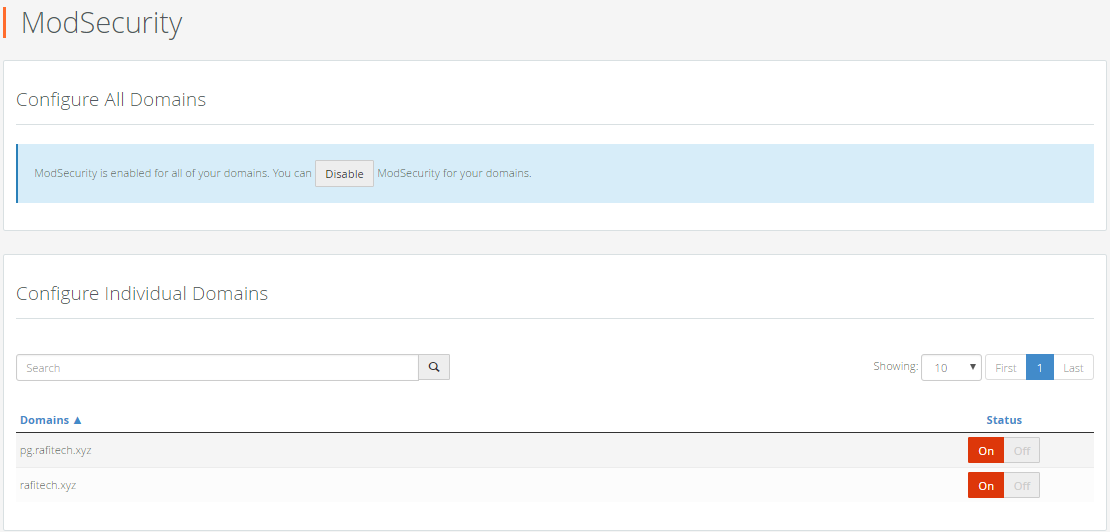 ModSecurity is basically known as Modsec. This is a popular open source web application firewall. It keeps your website safe.
SSL/TLS Status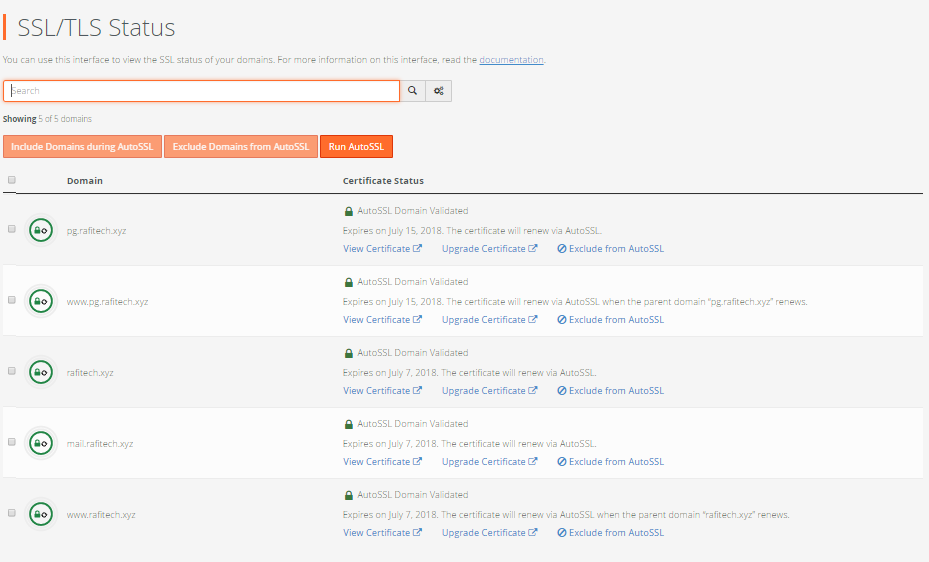 From here, you can find all the information off SSL that are adding to your domain. Such as purchase date, license duration etc.
Let's Encrypt
From here, you can get some information about SSL. Also if you need, you can install a new SSL from here.
In the next part, we will discuss the Advanced, Preference and Application Section of cPanel. To get the next part of cPanel, please stay with Tos Blog.
We provide a multi-language, user-friendly control panel (cPanel) with all of our hosting plans. If you want to see our pricing plans, you can visit our hosting panel and if you want to buy a cPanel, click here or you can contact us.
To get amazing offers and new tech updates, please stay with Toshost.